Here is what to look for in this STORMWORKS Chapter.  Scroll to the piece to learn more and order.  You can listen via STORMTRacks. Enjoy the Journey & Godspeed! S 
| | | | | | | |
| --- | --- | --- | --- | --- | --- | --- |
| Time | Music for: | STORMWORKS Chapter 89: Worlds Within the World | Mvms | Print SCORE & PDF Parts | SCORE & Master Set/PrintParts | Per. Score |
| 0:07:33 | Grade 5 | The Souls of Heaven | 1 | 95 | 110 | 40 |
| 0:08:11 | Grade 5 | At Dawn, a New Challenge for the Future of Humanity | 1 | 110 | 130 | 40 |
| 0:03:49 | Grade 4 | The Year of Sorrow… and the Tears of Allah | 1 | 80 | 90 | 30 |
| 0:08:00 | Grade 4 Band Grade 6 Marimba | Concerto for Marimba & Band | 1 | 100 | 115 | 45 |
| 0:17:00 | Grade 5-6 | The New Beginning (5 Sections) | 5 | 180 | NA, all digital only | 75 |
| 0:17:33 | Grade 5-6 | Concerto for Tuba (3 movements) | 3 | 180 | 220 | 75 |
| 0:05:12 | Grade 5-6 | Scherzo, #1270 for Fanfare Orchestra (also Band) | 1 | 100 | 125 | 40 |
| 0:05:50 | Grade 4 | A Requiem of Two Poems (5:50 or 8:25 if using Poems) | 1 | 95 | 110 | 40 |
| 0:20:20 | Grade 5-6 | Im Himmel Hore Ich Nun (I Hear Now in Heaven) (3 movements) | 3 | 200 | 240 | 75 |
| 0:01:33 | Grade 5 | Fanfare for Low Brass Choir | 1 | Free on STORMSite | Free on STORMSite | NA |
| 0:04:14 | Grade 3-4 | In Your Eyes I See the World | 1 | Free on STORMSite | Free on STORMSite | NA |
| 0:04:38 | Grade 4 | Ours are the Hours | 1 | 80 | 90 | 30 |
Free pieces from STORMWORKS Chapter 89 may be found here.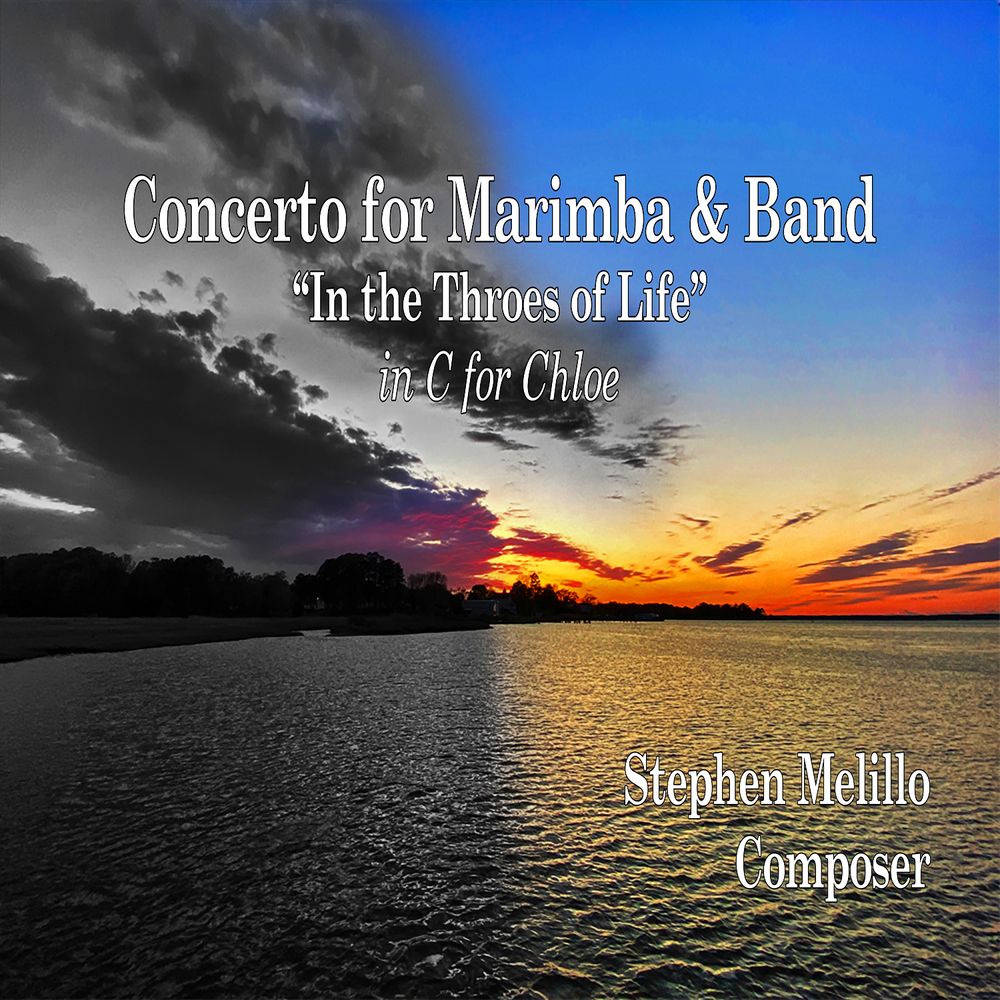 Concerto for Marimba & Band
Grade 4 Band, Grade 6 Marimba in 8:00

"In the Throes of Life"
in C "for Chloe"
#1314 for Marimba (Grade 6 & Grade 4 Band) of the 3rd Millennium™
in 8:00
by © Stephen Melillo, IGNA 10 JUL 2022, 2-3M
STORMWORKS, ASCAP

Commissioned by
The "Musique Militaire Grand-ducale" of the Grand-duchy of Luxembourg
and their conductor, Lieutenant-Colonel Jean-Claude Braun.

Brief History
I had always wanted to compose a piece for Marimba and Band. It wasn't until a congruence
of three events, all occurring literally within two days, that I was finally compelled to pull the
pen.

1. I saw a video of the Phantom Regiment Drum & Bugle Corps front line rehearsing
"Godspeed". I marveled at their technical chops. The 5 octave Marimbas cried out.

2. A friend from South America named Anderson Matos said, "you should write a piece for
Marimba."

3. Stephen Syrell, who helped me with the notation of the Marimba part and had me try
Dorico as a typesetting program for the first time, had also said, "you should write a piece for
Marimba." Steve has a beautiful rosewood Marimba in his home. He too was in my mind
when, as SYNC and the wonders of the Universe would have it, I received a text. Halfway
into this piece, Steve and Lindsey had their 3rd child, Chloe! The piece had to be in C
and documented as a work written while she was born. Chloe is the new daughter of a
percussionist and... a Marimba player.

Originally, I had thought of subtitling the piece, "These Are the Times That Try Men's Souls."
Yes. But then, there's Chloe, and really all children who continually bring new dreams and
wishes and Hopes into the world. Chloe is born into a Great Family, but also into a world
that tries Souls. We wish Chloe and all of us born into this Beautiful, but often treacherous
world, the best!

Enjoy & Godspeed!
Stephen Melillo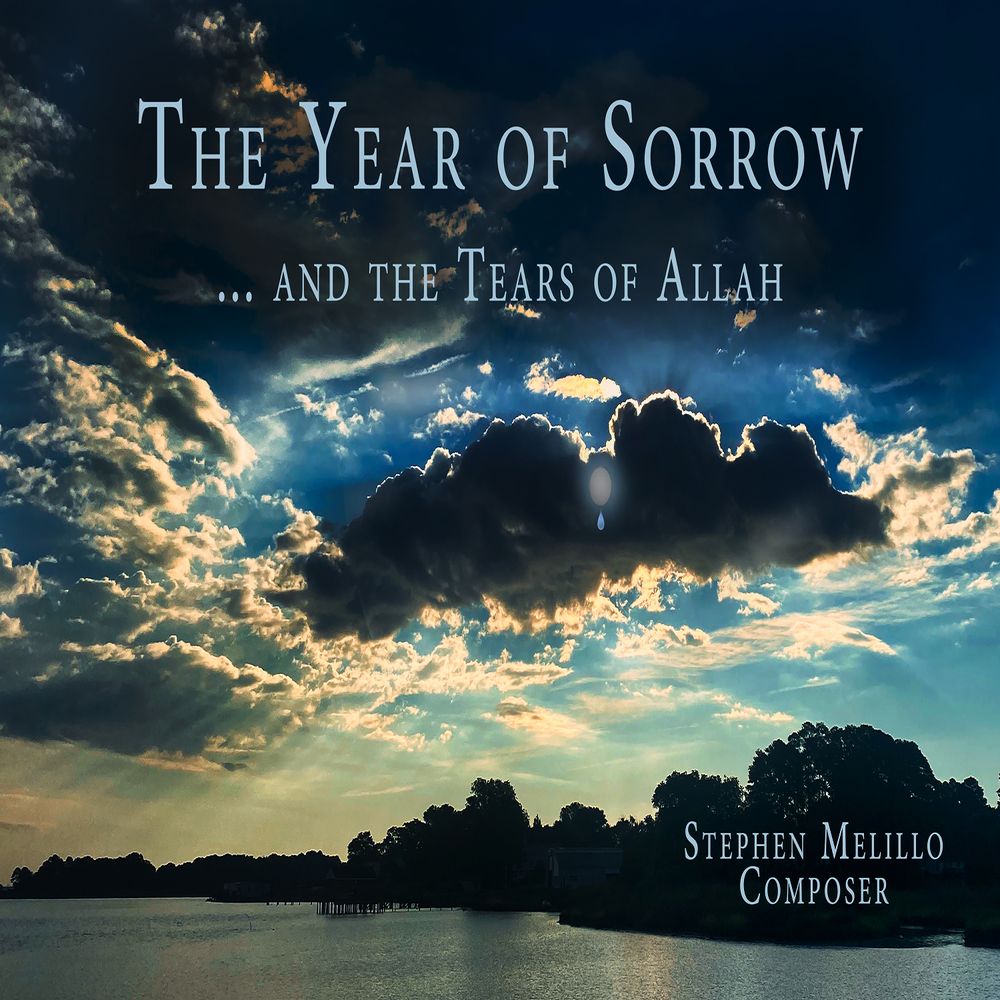 The Year of Sorrow & the Tears of Allah
3:49 for Grade 4 band
In the Islamic tradition, the Year of Sorrow (Arabic: نزحلا ماع , romanized: 'Ām al-Huzn, also translated Year of Sadness) is the Hijri year in which Muhammad's wife Khadijah and his uncle and protector, Abu Talib died.  The year approximately coincided with 619 CE, or the tenth year after Muhammad's first revelation.

Surely, for Muhammad, it was a year of Suffering, Sadness, and Sorrow.  For this reason and more I have composed this work. "The Year of Sorrow... and the Tears of Allah" is related to the Grade 6 work, Hajj, which appears on the STORMJourneys Album. This ©2022 work provides greater access to the same harmonic and color-rich language of the Hajj, but for Grade 4 Bands. In fact, this work may be considered a 1st movement of what you might one day render as, Hajj in 2 movements.

These quotes from THE PROPHET by Kahlil Gibran, not only inspired the "Music" but, as you will see, also the Orchestration.

"Shall it be said that my eve was in truth my dawn?"
"And alone and without his nest shall the eagle fly across the sun."

"Am I a harp that the hand of the mighty may touch me, or a flute that his breath may pass through me?"

"Even as the strings of the lute are alone though they quiver with the same music."

"The freest song comes not through bars and wires."

As it was for writing Hajj, I wanted to extend the hand of Love & Brotherhood to my Brothers and Sisters of Islam. The 99 names of Allah, Jehovah, Yahweh, God, Father... all are but different callings for the One God who created Existence and each of us. Because our world is so unnecessarily divided by the very diverse Creativity of Allah, certainly, He sheds tears for us. That is the reason for this Music. It is to illustrate His point of view. He sees us as One while we see ourselves as divided. But one day, and each of us knows this deep within, Love shall prevail. We will walk the Earth as Brothers and Sisters. Until then, as Allah weeps, so also do we.

Godspeed!
Stephen Melillo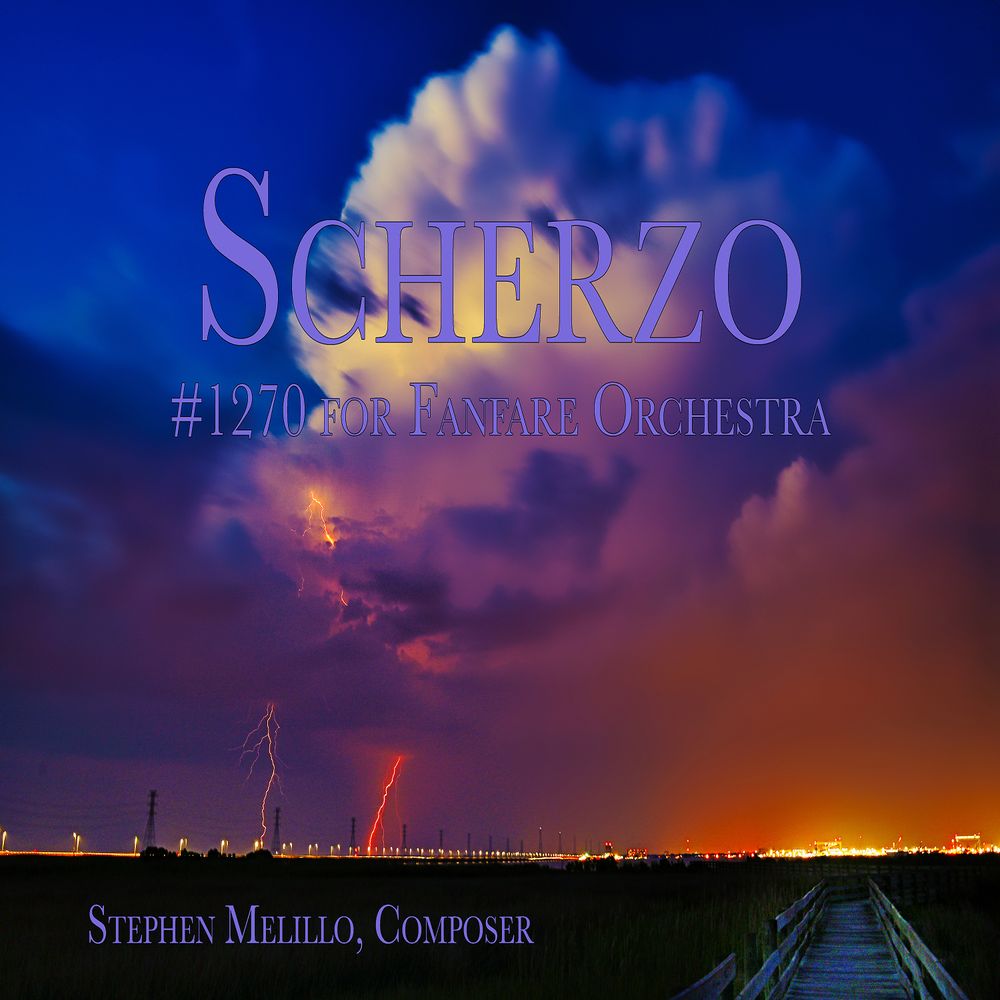 Scherzo
5:12 for Grade 5-6 Band and/or Fanfare Orchestra
Energy! Human Energy! A piece for the Great Human Adventure!... Lived and yet to be lived! Though this physically demanding Music is its own Story, and I remain novelless in describing it, this quote by Saint Francis, which did not inspire the Music, nevertheless points to one of the many messages within the piece.

"All the darkness in the world
cannot extinguish the light of a single candle."
— St. Francis of Assisi

Enjoy the Journey & Godspeed!
Stephen Melillo, Composer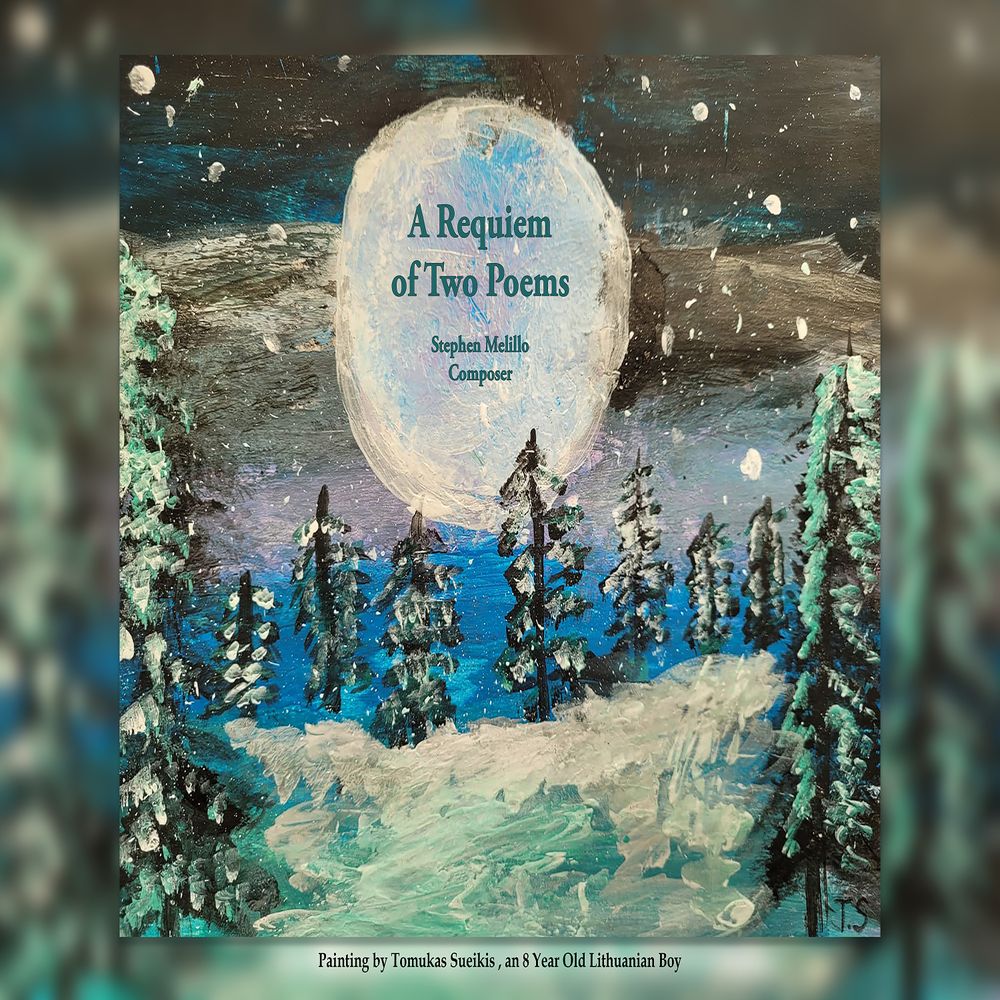 A Requiem of Two Poems
5:50 for Grade 4 Band
Commissioned by
The Massachusetts Institute of Technology Concert Band
Dr. Thomas E. Reynolds, Collin J. Myers, Jonathan O. Schmidt, Conductors

Our Story...

On 24 FEB 2022, the gentleman who allowed me to use his photograph for the Score-cover of The Concerto for Tuba, posted a Poem by Edna St. Vincent Millay. The war-time poem was laden with hurt and pain, loneliness and sorrow.

Mere hours later, Russia invaded Ukraine. Friends and descendants from Ukraine wrote. One first-generation Ukrainian "has a 16-year-old girl from Ukraine with him as part of an exchange." She is separated from her family, now under attack.

Poetry & War.  Minutes after writing Musical Haiku #113, I discovered another Poem by the Ukrainian Poet,
Taras Schevchenko.  Musical Haiku #113 was retitled, "A Requiem of Two Poems."

Catherine L. Geach, for whom was composed, "Lonely is the Knight" some 23 years ago, the Woman who created the school for war-torn orphans in Cambodia, listened to the piece. 'Hearing' the Music, she presented me with a Violin recording that she had made while on her knees in Prayer.  A video of this Violin version was posted on YouTube.

Then... Only hours after its writing and posting, the recording was played at The Church of Berezdizi near Lviv, Ukraine. The Music was not only played in the Church but all around Ukraine including areas under attack and even during Prayer for Ukrainian soldiers before going into battle.

One must marvel at the workings of God... for most assuredly, the Music, its Purpose, and its rapid spreading in Ukraine and beyond, were and remain in His hands.

On 15 Mar 2022, Dr. Thomas Reynolds listened to the Violin version of "A Requiem of Two Poems" and requested a version for band. Though at first I was content to leave the original outpouring of the Musical Haiku as a permanent, unaltered snapshot of History, and always will, I did indeed revisit the piece. The result is a more developed statement with the depth of Colour only available to us in the Band of the 3rd Millennium™.

Here now, that work is humbly offered. These OPTIONS extend the many possibilities built into a live rendering of this work:

1. The Ukrainian Poem, and or both Poems may be read prior to playing the piece.

2. Bars 9-45 may be repeated. On the first iteration, only the HARP plays while the Poem(s) are read. When it is time to bring in the full ensemble, use the beat 4, HORN Solo pick-up note to bar 9 and play the piece as written. This optional inclusion of a new element, namely a "Piece for Poem & Harp" effectively extends the work to a new duration of 8:25.
The New Beginning  
17:00 Grade 5-6  (in 5 Sections, for Quarantine and optional Live Music-making.) 
Click Here to see Score Notes: 
Commissioned by   
The Massachusetts Institute of Technology   
Concert Band   
Dr. Thomas E. Reynolds, Co-Conductor   
Collin J. Myers, Co-Conductor 

Forty years ago on 3 May 1980, the M.I.T. Concert Band under   
the direction of Professor John Corley rendered my first suite   
of pieces, a 10-movement work for extended Band and Jazz Ensemble, called "Only for Now." Today, 40 years and 1,243 pieces later, we present "The New Beginning." 
The following "score" mixes standard practices with the  technological restrictions and possibilities of a "quarantined" Music-making process. With MIT Musicians literally scattered across the world because of the 2020 lockdown, some of whom were in the ensemble from 40 years ago, this piece has been devised and humbly offered. One day, portions of it can be rendered live. We long for such a day. 
Other portions provide an opportunity for Music-making in ways that combine human with beyond normal physical expressions.   

Whereas each Musician will receive a "part" as necessitated by a particular sub-section of the work, each Musician will also receive the Score, namely, this document. The Score combines staging directions, notations, and processes specific to the possibilities of this ensemble of scattered Musicians, at this Time, in this technological environment. 
Let's begin!  Godspeed! Stephen Melillo , Composer
I Hear Now in Heaven 
20:20 Grade 5-6  (3 movements)
Click Here to see Score Notes:
I Hear Now in Heaven 
Im Himmel höre ich nun
a small ode of love for Ludwig van Beethoven
#1190 in 3 Movements
for Band of the 3rd Millennium™
in 20:20
by © Stephen Melillo
IGNA 16 December 2019

1. I Shall Hear in Heaven
2. The End of All Storms
3. I Hear Now in Heaven

Commissioned by
Thomas Rundel (Stormworks Germany)
&
Lieutenant Colonel Christoph Scheibling
and The Concert Band of the German Armed Forces
in Commemoration of the 250th Year
of Ludwig van Beethoven