A Brief History of STORMWORKS® 

Music by © Stephen Melillo IGNA 2-3 Millennium
"The Impossible Dream" from MAN OF LA MANCHA (1972)

music by Mitch Leigh and lyrics by Joe Darion


To dream the impossible dream

To fight the unbeatable foe

To bear with unbearable sorrow

To run where the brave dare not go

To right the unrightable wrong

To love pure and chaste from afar

To try when your arms are too weary

To reach the unreachable star

This is my quest

To follow that star

No matter how hopeless

No matter how far

To fight for the right

Without question or pause

To be willing to march into Hell

For a heavenly cause

And I know if I'll only be true 

To this glorious quest

That my heart will lie peaceful and calm

When I'm laid to my rest

And the world will be better for this

That one man, scorned and covered with scars

Still strove with his last ounce of courage

To reach the unreachable star

Please be sure to read the score notes from LAST WORLD STANDING, a part of the Chapter 13 Digital Libretti for a nicely condensed History and Philosophy of the STORMWORKS Music-making.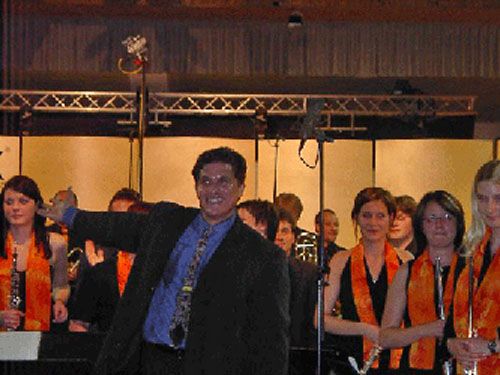 Dear Conductor, Musician, Music Student, Friend...

STORMWORKS is an interrelated system of compositions and teaching tools by Stephen Melillo.

 The STORMWORKS Story, itself, is the stuff of Romance and Adventure, the bigger-than-life, yet real-to-life story of an out-of-the-loop David.  It is a story about Love and a Passion for Music and Music Education.

 
In 1990, I was teaching, if you can imagine the ironic coincidence... (henceforth known as a SYNC) "The Internet" at NYU. Calling it the "intranet" then, this course for New York City School Teachers was offered in conjunction with the implementation of the MIDI-Music-Science-Mathematics-Technology Curriculum: Ways of Knowing. 

(You can check that out under Teaching Tools later.)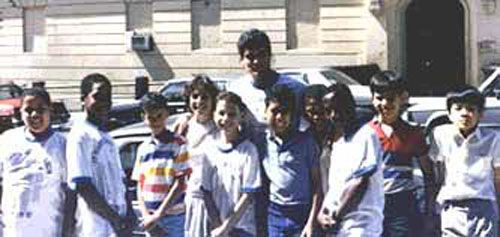 In 1990, after having already spent 11 years seeking publication, I set out to validate my instincts about what directors wanted and needed. After all, I myself was in the trenches. (I still have letters from publishers telling me, "no-one would play this piece", now played by over 5000 conductors around the world.)
In 1992-1993, I began an experiment in the American Dream. STORMWORKS was born. 

I sent one piece to one band. That piece is mentioned above.

 By means of pre-internet word-of-mouth and with only 4 ads placed in 7 years, STORMWORKS, evolving from handwritten Music to PDF when Adobe invented it, has now enjoyed many thousands of worldwide renderings! STORMWORKS Music is rendered by the world's finest ensembles, and by professional and educational musical groups that are led by thousands of international conductors who were, and who still are, in search of Music motivated by something other than a "market."
Since 1992, STORMWORKS has delivered Music and Teaching strategies DIRECTLY to Conductors, Music Educators, and STORMAficionados, without the need for 3rd party intervention; an innovation that foreshadowed today's rapidly changing technologies. Utilizing the most recent technological systems available, it was and remains a model for the pioneering spirit, which is also the essence of all STORMWORKS Music and Teaching Tools.
In 1993, "Rise of the Robots" played at NAMM, changed forever the nature of "game-scoring." That is yet another, though quite connected story for the 2057 STORMNovel™


In 1994, an unofficial website was launched by an individual inspired by a concert of STORMWORKS Music. He called the site STORMWorld, a most prophetic choice. 

The most important thing about STORMWORKS, the reason for its success and the reason it continues to thrive in a swiftly changing world resides in quantifiably simple things:


You can HEAR the Music. You can SEE the music. We can talk. (I mean literally.. not just in social media.) We can face the adventure of Music-making together. I'm here for you - to work with you and support you as you strive to create the Musical world of the Future.
STORMWORKS is represented worldwide and has enjoyed much success in Japan, Germany, Italia, Europe, China, Taiwan, Singapore and many other countries and yet, it is only just beginning! Its ground-breaking use of Orchestration and other innovations in support of Music and Music Education is still in the stages of discovery and many years of imitation.


For these reasons, and much more, this Music is here for us to unveil and explore together. It is baked fresh daily. Always in print, (full orchestrations can be yours in minutes!) and always being created, it pushes the boundaries of our expectations for Musical Ensembles of the 3rd Millennium™.
And if you've gotten this far... see what other people have to say.

 Godspeed! Steve
"With over 30 hours of internationally championed commissions, Stephen's groundbreaking Music for Ensembles of the 3rd Millennium™ offers inspiring new choices from beginners to pros. Melillo is one of the truly few creative, pioneering composers of Music for our ensembles. Over the past 22 years, his Music and methods have been regularly imitated, his many tangible influences on the publishing world significant, and all while working 'outside' the system. As a modern, musical David, he has not defeated any Goliath, but Goliath is singing a different tune! And these Musical journeys are enhanced by effective Teaching Tools with Stephen's direct support." Jochen Lorenz, Musikschulleiter, Dirigent, Diplom Musiklehrer

"
"Melillo is to wind music what Beethoven was to the symphony orchestra... Superlative musical craftsmanship and inspiring to hear." Marvin Sosna, Music Critic.


"Since we met Stephen Melillo 11 years ago my orchestra and me are inspired by his emotional music touching the hearts. We played some of his great pieces in our concerts and felt the power of his music occupying us and our audience. You cannot play Steve's music without being involved with heart and soul - Music from Stephen Melillo is like an earthquake and a prayer in equal time." Karl Geroldinger, Conductor
 
Still here?
COMING FULL SPIRAL (taken from the Chapter 13 Libretto)

Beginning in 1976, with sketches later becoming After the Storm and The Theme for the Special Olympics, STORMWORKS began.  For those of you who have followed the 30-year Journey in Song, LAST WORLD STANDING brings many themes and feelings into a self-revealing work.  

Pointing back upon itself, even the artwork tells a story.  The "Reaching Hand" from 1976, the "STORMHands" from the 1990 Son of the Storm.... the "Hands within Hands" from the 2006 LAST WORLD STANDING.

Even staging, as it is to this day, has been an important concern throughout the years.  Just look at the theatrical diagram devised for the premiere of SON of the STORM.  Look even earlier at "Only for Now" which premiered at M.I.T in 1980.  Yes, there's a "seating chart" there as well.

So what is it... As Ahab asks,  "What is it, what nameless, inscrutable, unearthly thing is it; that against all natural lovings and longings, I so keep pushing, and crowding, and jamming myself on all the time?"  What is that urges a would-be physics teacher, or an astronomer, or an oceanographer on a Journey of "storm-time"?

Answers reside in the Music itself.  AHAB, for one.  Only for Now, the story that urged the Music in the first place... and everything from Nogard and Dragon, a children's book told with Music, to SON of the STORM, a prayer in Music... to now 2 Novels framing Melville's Moby Dick.  Ahab, a Love Story, the prequel, and Death to Moby Dick, a Love Story, the sequel.

As Hero, Gustav Mahler said, "If a composer could say what he had to say in words, he would not bother trying to say it in Music."

In best hope, I nevertheless offer these words to Friends & Colleagues about Why? (This is best read while listening to the 4 Last Songs of Strauss or Mahler's 5th Symphony Adagio... or the 2nd Movement of the Concerto for Violin.)

As difficult as it is to accept, there is Evil in the world. Our sometimes Beautiful moment in Time is often interrupted by acts of Treachery, deceit, back-stabbing, and hurts that probe, puncture and test our very Soul. Our once broken Heart is broken again, and when no further damage can possibly be done, it is broken again... then again.

This is both Personal and Global.  It is One Man and Every Man, for as it says in the 17th Chapter of Saint Luke,  "the Kingdom of God is within man" - not one Man nor a group of Men, but in all Men!

From the many slaps in the face, both accidental and intentional, there are those who choose instead to look into the stars when Night falls... to send into the Universe waves of kindness that begin as gentle ripples and expand in their touching, until one day they become manifest as an act of unbridled Heroism and Giving.

Setting Music is much like putting a Message in a Bottle.  Then, it is set to Sea... into that Future Time when generations unimagined pick it up, take it to their Hearts, and bring it into their Lives. There in the Past, our Future children find the strength to be Heroes again, to Give again, to triumph in the face of despair... again and again and again.

Such is what the Composers of the Past have given me, and such is what I hope to share with our world in the distant, and not-too-distant Future.

Evil dies... but Good endures.  This is what I have come to know and believe in the experience of my Life, and this is what I want to share as I set to ink the writings of the "littlest" of the little drummer boys.  Humble though my efforts be, they are made noble by those who embrace its purpose... and to this unending end, I remain steadfast and wish you, Godspeed!

Life is short, but very wide... wider than can be expressed in forms other than Music.

In the rearview mirror, a 45-year-old man who wished to be a father since he was 12, looks into the beautiful face of his Son.  The illusion of Time is gone.  Now, already 4 years older than his grandfather was when he was born, the 45-year-old man studies the expression of his young Son.  The dream is now reality.  His Son, born on 11 September 2001 smiles and with a knowing look, seems to study the Music that fills the car.

In the infinity of an instant, the man is once again 17-years old.  He is alone and playing the first inception of an unnamed piece in a dusty basement.  It is 2 AM.  The out-of-tune piano has become a symphony orchestra, and the words embedded within the prayer of the Music have traversed Time and distance.

The man  remembers the demo tape!  To Hollywood it went, never meant for such a place. The mind races.  The man, still studying his son, flash-fire relives the 80s and 90s and hears the constant reiterations of what was once solely his, a quiet prayer in a remote, cold and damp cave-like basement.

Unpublished after many years, the 33-year-old sets off on his own to redeem his own original thoughts now gone "public".  He means to set things straight, to reverse the irony of an unknown Timeline redirected by the Goliath of much greater powers.  But as the Music plays in the car, he realizes that while the sounds were "played with", excerpted and imitated without the substance... the Music was left untouched.

"Only this could be what it is," he thinks to himself and with simultaneous telepathy to his Son buckled in the back seat. "You can't fake Real," he says to himself for the unnumbered time!

The little boy moves his hand in Space as if touching the Music. The child smiles.  His eyes make contact in the reflection of the rear-view mirror...  and indeed, through the Timestorm of 27 years. The Son says in a language better than words, "I like this, Daddy. Thank you."

I listen to my own Music, Music that I know is temporarily given to us by God and therefore never really mine to give.  I hear in my own little Time-capsule why I have endured the slaps in the face.   I see, in that forever skyward Place, a constant reminder of His Love.  I see in the smile of my Son, also loaned to me by God, the hope of Good's eventual triumph.

Suddenly all Time is gone.  My Son is my Brother, and indeed all of us are Brothers, the sons and daughters of God.

I know that for some this is difficult to read.  Believe me when I tell you that mine is the most scientific and logic-embracing of minds. My atheist friends endure this "character flaw" as I succumb to the ever-upward glance.  After all, it was Music that won.  Not physics.

But... He is there, my friends... as surely as my Sons are here... as definitively as this Timeless Music speaks to me unbounded by all the years and pains and lonely moments of doubt.

This is my faith.  This is what I want to share. This is why I write... humble though my scratchings may be.  And when you play this Music... I am made smaller by your generosity.

Thank you for your patience and kindness and understanding as the Timestorm unfolds.   

Godspeed!  

Stephen