Here is what to look for in this STORMWORKS Chapter.  Scroll to the piece to learn more and order.  You can listen via STORMTRacks. Enjoy the Journey & Godspeed! S  
| | | | | | | |
| --- | --- | --- | --- | --- | --- | --- |
| Time | Music for: | STORMJOURNEYS... 75:07 | Mvms | Print SCORE & PDF Parts | SCORE & Master Set/PrintParts | Per. Score |
| 0:02:14 | Beginning Band | BREAK OF THE ANCIENT CODE | 1 | 50 | 60 | 20 |
| 0:02:15 | Beginning Band | JUST THE SAX, MAM! | 1 | 50 | 60 | 20 |
| 0:02:07 | CB G2-3 | CLASS OF '39 FIGHTSONG! | 1 | 50 | 60 | 20 |
| 0:06:47 | CB G2-3 | THREE MUSICAL HAIKUS for BAND | 3 | 65 | 75 | 30 |
| 0:03:22 | CB G3 | THOSE WHO SERVE... free STORMSite Download | 1 | NA | NA | NA |
| 0:07:00 | CB G2-3 | A SENDING | 1 | 75 | 85 | 30 |
| 0:04:44 | G2-3 w/G5 Percussion! | AFINCE! | 1 | 75 | 85 | 30 |
| 0:02:52 | CB G2-3 | MONTY! | 1 | 80 | 90 | 30 |
| 0:04:43 | CB G4-5 | PATRICK'S RUNE | 1 | 105 | 115 | 40 |
| 0:09:28 | CB G3-4 | UNDER COVER of NIGHT & INTO the LIGHT of DAY! | 1 | 110 | 120 | 40 |
| 0:16:17 | CB G3-4 | Music from the Motion Picture AURORA   (3 movements) | 3 | 140 | 160 | 40 |
| 0:08:40 | CB G6 | HAJJ | 1 | 110 | 125 | 40 |
| 0:05:17 | CB G5 | HONOR, COURAGE... COMMITMENT   (2 movements) | 2 | 120 | 135 | 45 |
|   | COMPLETE SUITE 75.07 | STORMJourneys: Complete Suite on CD-ROM |   | 595 | 1110 | NA |
|   | SITE LICENSE | Additional Site-Licenses for STORMJourneys CD-ROM |   | 100 Each | NA | NA |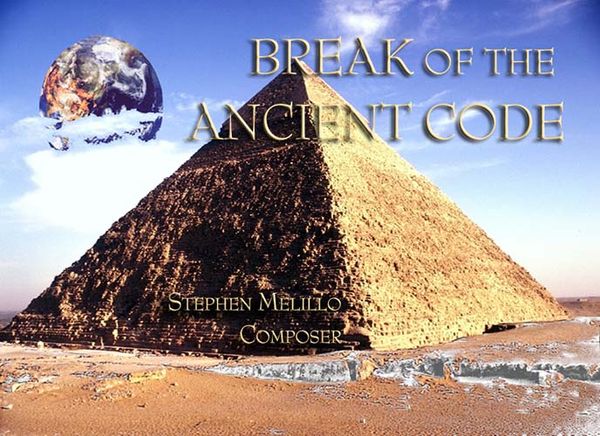 BREAK OF THE ANCIENT CODE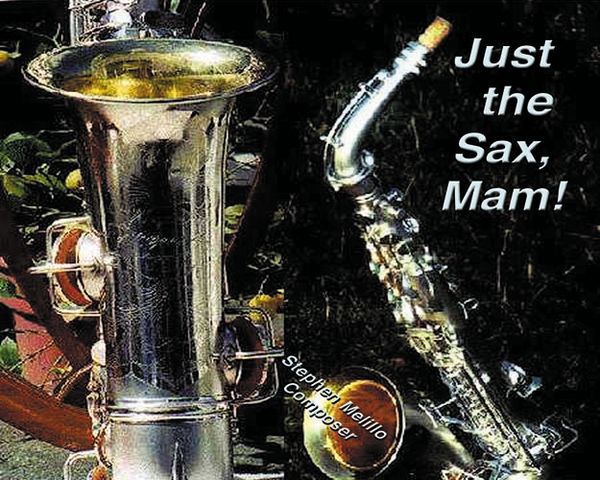 JUST THE SAX, MAM!
Click Here to View Perusal Score
Description:
This rock-oriented piece allows beginning saxophonists to focus upon the GABCD fingering pattern. As usual, all other students are challenged in ways characteristic to their instruments. This is a fun, but nevertheless useful teaching tool for the beginning band.
For greater specificity, please visit the Score and Score Notes.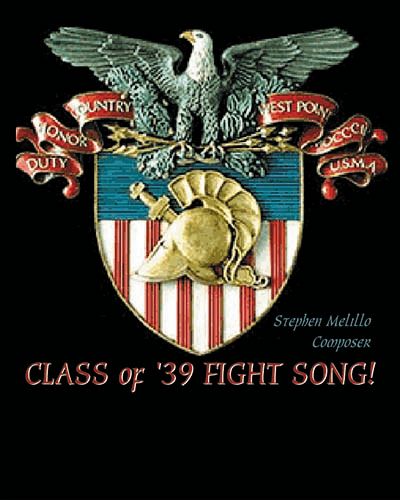 CLASS OF '39 FIGHTSONG!
Click Here to View Perusal Score
Description:
In the spirit of Sousa, here is a March, or perhaps a Fight Song if taking the optional omissions. It is scored for younger ensembles.
Composed to pay tribute to the West Point Class of 1939, it is a highly-spirited, and characteristic work for young band. Also suited for inclusion in the suite: A WISH to the WORLD!
For greater specificity, please visit the Score and Score Notes.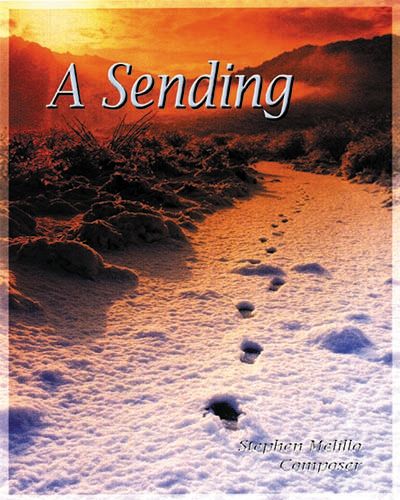 A SENDING
Click Here to View Perusal Score
Description:
You would be saddened to know how many times I am asked to compose a work for someone who has passed on. I often say no, but when three band directors called at the same time to compose such a work, I decided to create a young band statement that might positively address this situation. Again, the colours explored are new to our idiom, the themes and moods easy to connect with. Options within the work allow for a range from Grade 2 to perhaps Grade 4.
Please visit the score for more information.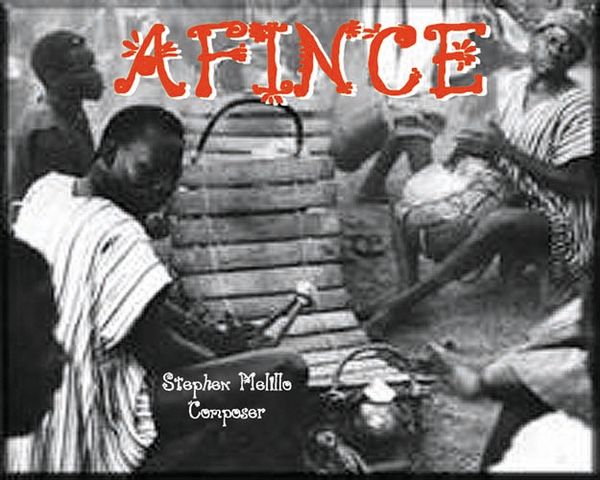 AFINCÉ
Click Here to View Perusal Score
Description:
Afincé offers still yet another opportunity for an innovative mix of forces and has many possible uses in your program. The Grade 3 Level Middle School, or young High School Band may be joined by a very strong high school, visiting college, or professional percussion ensemble!
The piece features the Percussionists, but nevertheless provides a Musical and educational experience for the wind Musicians. The piece is essentially a groove in 3.5/4. Teaching scenarios accompany this and all young band works. The work can also be rendered with the Jazz Ensemble, and opened for solos, or rendered with just Percussion Ensemble, and/or edited into an exciting field version.
There are many avenues of use and exploration in this strategic addition to your library.
Please visit the score for more information.  Because of space, this track did not make the CD Recording.  It is a part of STORMJourneys, but also Winds & Percussion in Motion.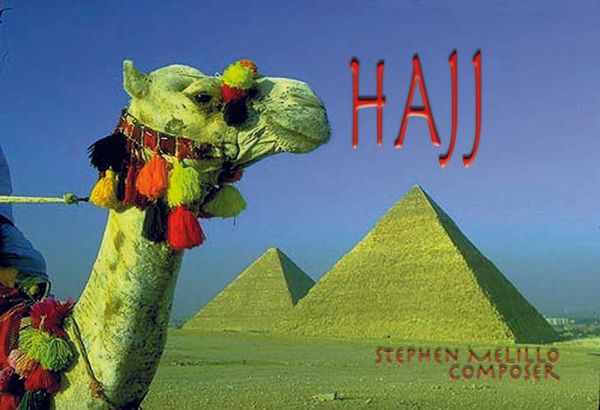 HAJJ
Add a subheading
Click Here to View Perusal Score
Description:
This work is offered as a tribute to the faithful who each year make the HAJJ, a pilgrimage to Mecca... and to all those who make each day a new step in Life's journey.
HAJJ is about the moment before the real Prayer begins. It is fraught with intrigue, and sidetracked adventure, moments of introspection and exuberant dance! Many contrasting sections offer the ensemble its opportunity to explore superimposed styles and varied colours. The work may also be rendered as a combined work for Band of the 3rd Millennium™ and Jazz Ensemble. The intent of this work suggests something more global, more akin to all of our Natures. We are, it seems, always involved in a going forth. Like a pilgrim, the voyage begins with full knowledge of what to expect. And then, just like a pilgrim, when the moment of Truth arrives... it is always so much more than what was hoped for. To this journey, this quest, this pilgrimage, I leave you this piece... HAJJ.
The addition of HAJJ to the repertoire is made possible by the joint effort and commitment of many dedicated individuals. My many thanks to these champions of Music and Music Education.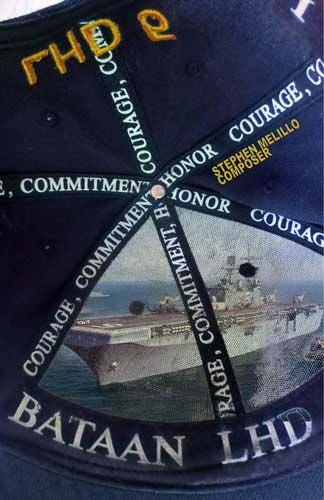 HONOR, COURAGE... COMMITMENT
Click Here to View Perusal Score
Description:
Movement 2 of this work is on the STORMJOURNEYS CD. It's first movement, Without Warning opens the STORMWORKS... Chapter ONE CD.
Fasten your seatbelts! WITHOUT WARNING is fast, features everyone, and delivers maximum impact! Requires either Synth or Acoustic Jazz Bass. WITHOUT WARNING is the First Movement of a larger work entitled, HONOR, COURAGE... COMMITMENT which has the potential of becoming a 12 minute, 3-movement work if utilizing the optional closing statement of GODSPEED!
HONOR, COURAGE... COMMITMENT is a large scale, filmic and musical portrayal of the United States Navy's Action and Adventure on the High Seas. The piece requires strong brass and percussion players and woodwind players with advanced technique.
This piece is from the STORMJOURNEYS CD. and the STORMWORKS... Chapter ONE CD.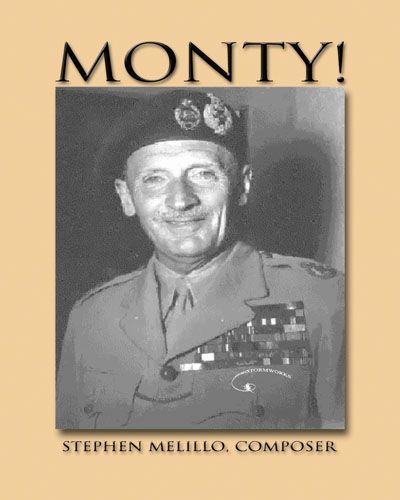 MONTY!
Click Here to View Perusal Score
Description:
Composed to assist the Music Educator in teaching music in 3's... MONTY! is a robust British Style March written as a tribute to General Bernard Montgomery of World War II fame. The piece is divided into rehearsal sections designated by the form of the composition so that while it provides a tool for teaching rhythmic concepts, it also teaches students about form and logical rehearsal strategies. The key signatures of Bb and Eb in addition to the range make the piece a Grade 2. Some of the rhythmic explorations make it a Grade 3.
Please visit the score for more information.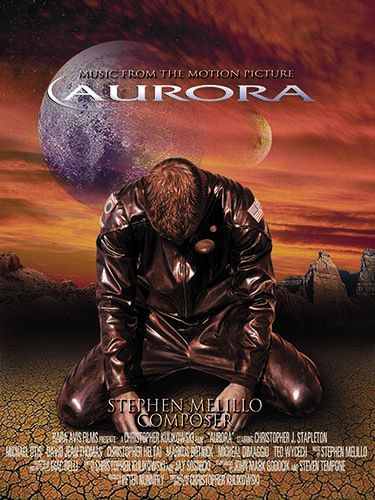 Music from the Motion Picture AURORA
Click Here to View Perusal Score
Description:
This is a three-movement work.  Each part is playable as a separate piece. The center movement is scored for a new-to-our-idiom orchestration featuring the woodwind section. The piece is conceived to allow many options as possible within the attainable scope of a Grade 3-4 work for band.
The piece is a new "take" on Music from the 68-minute Film Score for AURORA.
Whereas, in many cases, an entity like a film score will be composed by one composer and then arranged by another, here is an instance where the composer and then the re-composer are one in the same. This is a great opportunity, therefore, to share something intimate and non-homogenized with your students.
Godspeed.
Please visit the score for more information.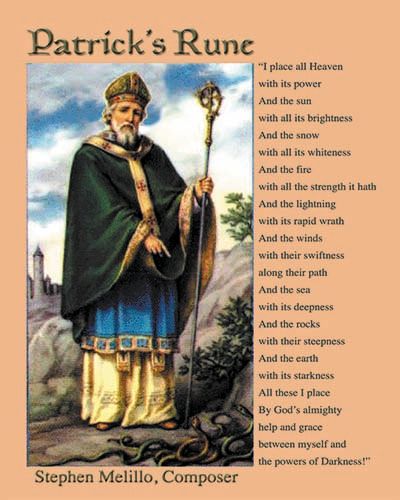 PATRICK'S RUNE
Click Here to View Perusal Score
Description:
High energy dance-like rhythmic figures and a haunting prayer theme... later developed in Symphony #2... combine in this work depicting St. Patrick's banishment of the snakes. As in all "Storm" Works, the piece provides a well-planned media in which to explore music-making concepts. Contained within are themes for Patrick, the striking staff, the Storm and religious faith of the Rune as well as depictions of the dance, struggle, and joy of the Irish people as the Light of Hope triumphs over "the powers of darkness!"
Patrick's Rune places many varied and simultaneous demands on the student Musician. Because the piece involves Music in 2's and 3's in both 4/4 and 12/8, and because of the dynamic possibilities joined by the need for great speed and dexterity in fingering, this work can be rendered by quite accomplished groups or by younger Musicians needing a work which, when rendered as intended, will represent a significant accomplishment.
Please visit the score for more information.
Saint Patrick
Feastday: March 17
Patron of Ireland
b. 387 d.461
Saint Patrick of Ireland is one of the world's most popular saints.
Apostle of Ireland, born at Kilpatrick, near Dumbarton, in Scotland, in the year 387; died at Saul, Downpatrick, Ireland, 17 March, 461.
Along with St. Nicholas and St. Valentine, the secular world shares our love of these saints. This is also a day when everyone's Irish.
There are many legends and stories of St. Patrick, but this is his story.
Patrick was born around 385 in Scotland, probably Kilpatrick. His parents were Calpurnius and Conchessa, who were Romans living in Britain in charge of the colonies.
As a boy of fourteen or so, he was captured during a raiding party and taken to Ireland as a slave to herd and tend sheep. Ireland at this time was a land of Druids and pagans. He learned the language and practices of the people who held him.
During his captivity, he turned to God in prayer. He wrote:
"The love of God and his fear grew in me more and more, as did the faith, and my soul was rosed, so that, in a single day, I have said as many as a hundred prayers and in the night, nearly the same." "I prayed in the woods and on the mountain, even before dawn. I felt no hurt from the snow or ice or rain."
Patrick's captivity lasted until he was twenty when he escaped after having a dream from God in which he was told to leave Ireland by going to the coast. There he found some sailors who took him back to Britain, where he reunited with his family.
He had another dream in which the people of Ireland were calling out to him "We beg you, holy youth, to come and walk among us once more."
He began his studies for the priesthood. He was ordained by St. Germanus, the Bishop of Auxerre, whom he had studied under for years.
Later, Patrick was ordained a bishop and was sent to take the Gospel to Ireland. He arrived in Ireland March 25, 433, at Slane. One legend says that he met a chieftain of one of the tribes, who tried to kill Patrick. Patrick converted Dichu (the chieftain) after he was unable to move his arm until he became friendly to Patrick.
Patrick began preaching the Gospel throughout Ireland, converting many. He and his disciples preached and converted thousands and began building churches all over the country. Kings, their families, and entire kingdoms converted to Christianity when hearing Patrick's message.
Patrick by now had many disciples, among them Beningnus, Auxilius, Iserninus, and Fiaac, (all later canonized as well).
Patrick preached and converted all of Ireland for 40 years. He worked many miracles and wrote of his love for God in Confessions. After years of living in poverty, traveling and enduring much suffering he died March 17, 461.
He died at Saul, where he had built the first church.
Why a shamrock?
Patrick used the shamrock to explain the Trinity, and has been associated with him and the Irish since that time.
In His Footsteps:
Patrick was a humble, pious, gentle man, whose love and total devotion to and trust in God should be a shining example to each of us. He feared nothing, not even death, so complete was his trust in God, and of the importance of his mission.