Right now, there is an extension of the Date.  we have until 29 March.  I will keep you posted.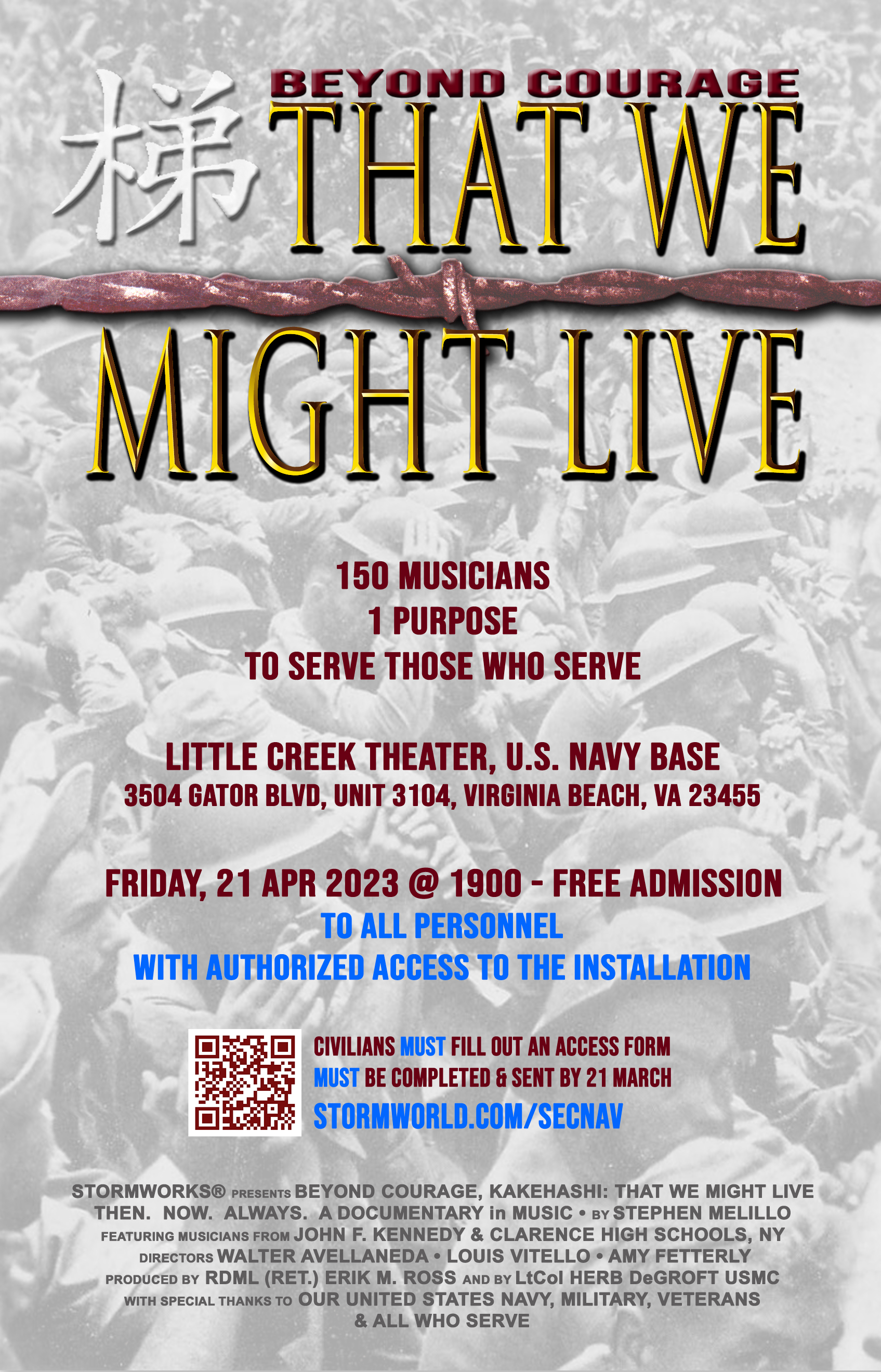 Welcome!  Here is how to get onto the Base and enjoy this Free Concert/Event/Tribute to our Veterans and Active Duty.
Kakehashi: THAT WE MIGHT LIVE, at Little Creek (Gator) Theater:  3504 Gator Blvd, Unit 3104, Virginia Beach, VA 23455

For the Concert at 7 PM (1900) on 21 APR 2023, those without a DOD-ID Card must fill out this form and deliver it as per the directions below by 29 MAR 2023.  Each individual who is 18 and over is required to complete the SECNAV 5512 form.  Attendees who will not be 18 by the concert date will all be added to the Access List for the event.  Please send the names of those minors not yet 18 as per the directions below.
Here is what you need to do:
1. Download the SECNAV 5512 ACCESS PASS REGISTRATION Form Here.  In Acrobat Reader, you will find a PEN Tool on the right.  Then at the top of your screen, you will see," SIGN YOURSELF".  Please use this to sign your name.  All other fields can be typed.  You can also use the Digital Signature.
IMPORTANT and Please Note:  Block 13: "Two forms of identity source documents from the list of acceptable documents listed below must be presented to the base registrar with this completed form."  It is not necessary to personally present them at the Gate, but the ATO (Anti-Terrorism Officer) does need the first information source on the Form to be the SSN.

 2.  Please email me the completed form.  Please send me the names of any minors in your email.  Please do NOT fill a form out for minors.  This adds needless "vetting time" for the ATO.  If needed, please Download, Print, and Sign your form.  Then mail it to:
Steve Email, or

Stephen Melillo
209 Spinnaker Run Lane
Smithfield, VA 23430
Remember, 29 MAR is an absolute deadline.
3.  When you arrive at the Gate on 21 APR, your name will be on a "Vetted ACCESS List".  Be sure to have a State-issued ID with a Photograph.

Looking forward to seeing you there!  Godspeed!  S
 
Kakehashi: THAT WE MIGHT LIVE - BEYOND COURAGE (Texts & Explanations)
Kakehashi: THAT WE MIGHT LIVE DVD Insert Letter
Kakehashi: THAT WE MIGHT LIVE DVD Covert Art
 
Explore & Purchase:
Excerpt from Kakehashi: That We Might Live (on vimeo)

Kakehashi: That We Might Live on DVD (Get the DVD from Stormworks)

STORMWORKS Chapters 5:8 - Writings on the Wall (2 CDs, with Kakehashi: That We Might Live, Recorded in Japan)

Photos from the WTKR Interview with RDML (Ret.) Erik Ross.