9 APR 2022 
"viel Erfolg in Omaha Beach", a Story about "God Bless America." 
There are 101 arrangements of GOD BLESS AMERICA on a certain publisher's site.  I had previously researched the potential Copyright Owners at the US Copyright Office.  Composed by Irving Berlin in 1918 for… ironically as you will soon read… WWI, I discovered that the work was in the "Public Domain."  I was free to do the arrangement as requested by the Survivors of the Bataan Death March, the 80th anniversary of which, is today. 
But, after doing the arrangement, after 2 years of negotiations with the Japanese Ministry of Defense, after recording God Bless America, and after presenting the Music to the Survivors and Families of Bataan & Corregidor, I learned that the Rights to GBA had been passed through the Boy Scouts of America, and now, to a certain publisher. 
I honored this discovery of Copyright and made whatever amends were necessary, including paying a $2500 penalty/mechanical fee for recording the Music onto the STORMWORKS Chapters 5:8 CD Set-Writings on the Wall.   
In addition to all of its other World-Historic gestures, Writings on the Wall was the first-to-be-released album by the Japanese Military outside of Japan.  The Music was rendered by 143 Japanese Military Musicians and 300 Chorus traveling from Shenandoah and Old Dominion Universities.
I approached the publisher.  I offered the arrangement to them without any request for a royalty.  I explained why and how the arrangement had been done, at the request of the ex-POWs of Bataan & Corregidor.  I told them that I expected no money, that they could sell the arrangement and keep 100% of all sales, that the purpose of the arrangement was to help spread the forgotten History of these GREAT Souls! 
Despite all of that, and despite the fact that there were already 101 arrangements, I was denied permission.   
Now, the reason for the denial is quite petty and indeed the subject of a completely other and larger Story, namely… STORMWORKS.  We shall save that Story for when I am 94 years old. 
BUT!  There was an imminent obstacle!  It was the Summer of 2008.  We were to deliver this arrangement of God Bless America on OMAHA BEACH. I read the DENIAL letter literally HOURS before leaving for the airport!  I would fly into Paris and then travel to Normandy to conduct the arrangement!
I called ahead to the Tour Director in Europe saying, "We cannot do God Bless America on Omaha Beach as planned! … even though the Veterans themselves LOVE this arrangement… it would be illegal." 
I quickly contacted my Good Friend, Thomas Rundel in Germany!  Germany, you see!  I said, "Thomas, see if you can work out a little Miracle.  Say that you want to do an arrangement of God Bless America.  Don't mention may name.  See if you can get permission." 
*** (Please Note:  By writing this article, and revealing the workaround, I have undone the many future possibilities of bringing you really Great arrangements of Music that are in this publisher's catalog.) ***
Forty-five minutes before leaving my house to catch the plane for France, I received THIS email from my German Publisher and Friend:  (I still get CHILLS reading this…) 
I will reference these Screenshots: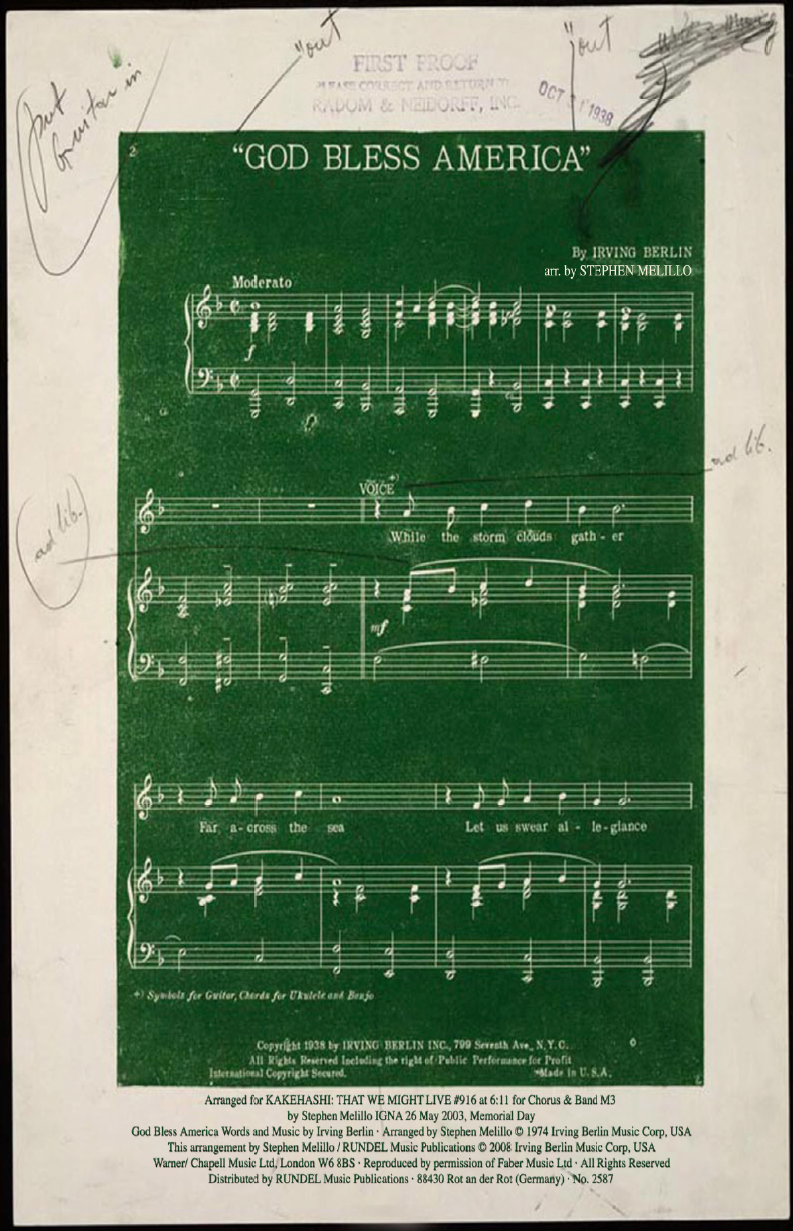 Thomas Rundel from STORMWORKS Germany wrote: 
Please use the new edition of GBA. 
Then, I would say, it will be legal. 
We do have the license to print and publish GBA. 
  
Please tell everybody, you bought the music set in Germany. 
  
The license includes no restriction of the performance area. 
It only restricts the "Territory in which the Publication may be sold". 
  
Also, viel Erfolg in Omaha Beach. 
  
T 
Some good souls reading this may not know what "viel Erfolg in Omaha Beach" means.  It means GOOD LUCK ON OMAHA BEACH. This incredible "Healing" message was sent to me by a Good Man whose Father served in the German Army during WWII!   
(There are other ironies too, too much for one letter, like the Gifts from Bliss Alexander, a 17-year-old Trombonist who missed an opportunity to play with the Dorsey Band.  Instead he was sent to fight on the D-Day invasion.  For Herr Rundel, Thomas' Father, I wrote, "IN EINEM ANDEREN LICHT."    Why?  Because Bliss and Herr Rundel would have much preferred to play Music together!  In Another Light, we WERE and ARE and WILL BE Brothers.) 
So you see, the Irony is most supreme.  Short-sighted American Publishers have DENIED this powerful, Veteran-Loved arrangement… yet the Germans have made it possible. 
I am SO deeply humbled by the Goodness in People, which transcends every other classification. 
And now, perhaps the greatest Irony of all will be to LISTEN to my arrangement of God Bless America… done with the UTMOST Love and Respect for the ex-POW Survivors, and ALL, regardless of Nationality, who simply longed for HOME.  The Japanese?  Of course!  They longed for Home.  Furusato.  The Germans?  Of course, Heimat!  This is why I wrote "Jidai" for that same album.  Jidai means an "Era"… a NEW Era for the Brotherhood of Humanity. 
But there is more.  The Story of "God Bless America" goes deeper, to the core of our innate ability to Forgive and Heal and Join with each other. 
GOD BLESS AMERICA, Part II 
The Story of the Japanese Military playing God Bless America and the previously shared story becomes even more fascinating when one considers that there were individuals in THAT Chapters 5:8 Band whose ancestors most likely fought the Americans during WWII.  I shall have to resurrect some amazing photos… like that of the ALBUM cover the Japanese Military Band had produced during the WWII years, cheering on the Tora-Tora-Tora-dressed pilots from the deck of an aircraft carrier. 
Side Note:  Once the Recording of STORMWORKS Chapters 5:8-Writings on the Wall, was finally decided, and after 2 years of translated negotiations with Colonel Junichiro Eguchi, it was not just ONE of the Japanese Military Bands that took part.  Rather, there was a total of 143 Musicians taken from various military ensembles all across Japan.  They wanted all of their Military Musicians to take part in this Historic event. 
The Tenor singer on GBA had lost his Music.  I said, "no problem.  I have it as PDF."  The Japanese, always near, always listening in on everything, waved their hands.  "No no… no no.  We. We." 
Side Note:  I was telling the recording engineer that I wanted 16 feet of space between the HORNS and the back row of brass.  I was overheard.  Suddenly there were several Military people measuring and marking 16 feet with a tape measure.  They rolled in a cart with every mallet known to man so that I could choose the timpani mallets.  
God in all things… The Japanese left and within minutes returned with the image below:  (I would not have known this even existed had the college choir member not lost his part.) 
This was sent to Jack Aldrich, the first ex-POW from Bataan that I had met back in 1998.  Jack is also the GREAT, Great, Beautiful Man that adopted me as "his Grandson" after the Premiere of Kakehashi: That We Might Live in Roswell, NM, 4 April 2004.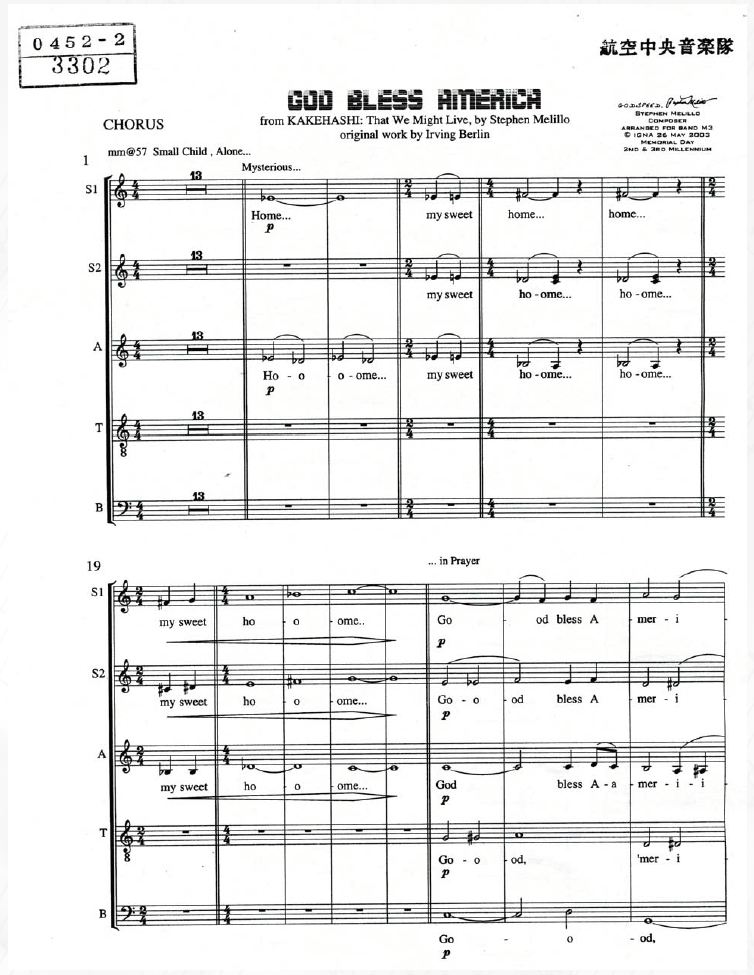 You see, GBA was a part of Kakehashi: That We Might Live…  BECAUSE the Men (Jack was one of them) asked me to incorporate it.  They said, "You can't do a tribute for us without including God Bless America."  
WHY?  Because the ex-POWs had friends who were beheaded by the The 1930s-40s Japanese Empire for singing, or humming, or whistling just six notes from it! 
THAT is the profound significance of this arrangement.  It was done for the Men, at their request, but then to discover THAT arrangement now a permanent part the Japanese Military Bands' Library some 60 years later… and with the stamp in Japanese?  That was chilling.  
I had to send it to Jack.  Please use your highest levels of Compassion and SIMPATICO… Imagine being JACK and Seeing THAT!  The word "irony" is insignificant and puny when measured in this new Reality.  HEALING too. 
I hope you have enjoyed this Part Two of the God Bless America Story.  I share it so that you will see how God works in all things… especially in pieces that have His name in the title! 
You can listen to God Bless America, a part of Kakehashi: That We Might Live, a part of STORMWORKS Chapters 5:8 on STORMTracks.  There is much much much to explore. 
Godspeed! S