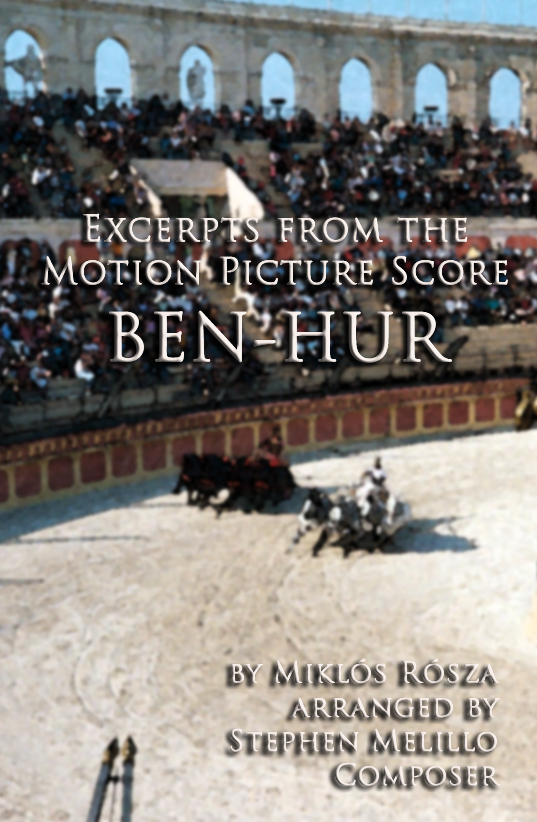 Today is the Birthday of personal super-hero Composer, Miklós Rózsa. Many thanks to Lester Lim and his fine Musicians.  This arrangement is available through ALFRED. 
Here now is the Untold Story about this arrangement of 'Music from BEN HUR.' 
It was Harrison High School, not sure of the year.  It was either the 1980s, or maybe the early 1990s?  To round out the program, I thought we needed another piece for the Christmas Concert. 
Two weeks before the concert, I did the arrangement of 'Ben Hur.'  That's how dependable and good the kids were. 
We played the arrangement 2nd on the concert.  The kids did a great job!   
Standing ovation!   
For only the 2nd piece on the program, the outpouring doesn't stop. 
Then, The Dad of the Timpanist, (Gregg), came up into the stage and hugged his son. 
Then, many (if not all) of the Parents followed and came up onto the stage, hugging their kids. 
What?!   
This was only the 2nd piece in the concert, and now, the whole event was at a standstill, a continued concert of hugging!  I thought that perhaps we should just "end the concert?"  The whole scene was surreal. 
Somehow, we got everyone quieted and back to their seats.  Where were the cameras (iPhones were yet to be invented) when you needed them!? 
BUT you see, this was/is the Emotion and the Power in the Music of Miklós Rósza, who so perfectly captured this 'Tale of the Christ.' 
I am grateful to GOD that because of beloved Miklós, and such good kids, I have such a story to share with you. 
Enjoy & Godspeed!  S 
Here is the recent Lester Lim video of 'Music from Ben Hur.'