6 FEB 2021 
Father Peter M. Rinaldi and the Escape from Plato's Cave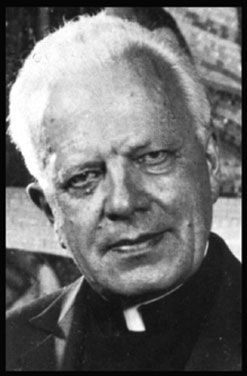 Father Peter M. Rinaldi, in 1993
A SYNChronicity of Events: 
Neatly nestled between the birthdays of John Williams and Jerry Goldsmith, my Son will make his Confirmation this year.  As his namesake and patron saint, he chose Saint John Don Bosco.  After scoring a film shot in India, and seeing that the action took place at a "Don Bosco" center, I recalled my years growing up at Corpus Christi Elementary School in Port Chester, New York.  The school was run by Salesian Priests and Nuns.  The Salesian order was founded by Saint Giovanni "Don" Bosco.   
To this day, I'm still in contact with my 7th grade Teacher, Sister Mary Anne, who helped with my novels, Ahab, a Love Story and Death to Moby Dick, a Love Story. 
The collaboration on the India-made film, One Little Finger, led to contacts with several others, one a Lyricist from Hawaii, one a singer from Rome, and a songwriter, a Priest living and working in South Africa.  When my Son had chosen the name of Don Bosco, I was "compelled" to share the following story, which I now share with you.  "Compelled" appears in quotes because Father Peter M. Rinaldi, the Pastor at Corpus Christi Elementary School in Port Chester, New York, authored a book entitled, "By Love Compelled."  For those of you who know the Stormworks STORMQuest series, I composed a piece in 1997 entitled, By Love Compelled… at the Hour of Shadows.  
Letter to the Songwriting Team: 
"Dear All, 
Just a heads up that I have moved Father C's piece to the key of G.  I was just speaking with someone the other day about Father Rinaldi and how I had chosen the Key of G to represent "G"od.  In early 1993, I was composing a piece entitled Escape from Plato's Cave. It was to be a metaphorical work depicting the Resurrection of our Lord, and indeed the Resurrection of all Humanity.  After writing the 1st Movement, then the 2nd Movement and then 68 measures into the 3rd movement, it was Time to create that new key signature, and modulate to G.  In this key, I would describe the Resurrection of Man. 
I had JUST written the key signature down… of G.  The score was now ready. 
The phone rang. 
I had to move my jaw because I hadn't spoken to anyone in over a month. 
I was told that Father Rinaldi had passed away.  I cried. 
Now came the Moment of Faith… what would I write?  What would come deep from my Heart about Belief in the Resurrection?  Was Father gone, or was he now in the Light and Presence of God? 
A great smile came to meet the dripping tears.  I knew Father Rinaldi was in Heaven… and so I wrote, in G… for "G"od, His Resurrection and ours… about the "Escape from Plato's Cave," and the lifting up into the Eternal Freedom of the Light. 
Godspeed! S" 
Here are the Score Notes as they appear in the 1993 piece, Escape from Plato' Cave. 
At the very moment I had reached that transitory moment in the third movement, the transcendence from "D"ark to "G"od, the phone rang. Father Peter Rinaldi had died. As a boy growing up, so often running to him at recess and serving mass with him every day of the summer, he taught me, by action, the Message of "the Man"... a message of Love. He literally gave me the shirt off his back one day, no show, no lesson, only Love. His entire Life was in dedication to something higher... a Prayer to that which humbled him. My young adult novel, ONLY FOR NOW, was dedicated to him, his name of the main character. Subconsciously, I've quoted the 9-movement Wind Ensemble Suite, my first piece, inspired by that book. Now, Father Rinaldi has gone... into the Light. He would not have me dedicate anything to him. His eyes were always looking upward... beyond himself. But, to him, another Man from the Light... I bow humbly and offer back that which was, and never really will be mine to give. Godspeed, Sincerely... Stephen Melillo